Antike und moderne Münzen (Lose 1-1145)
Das Live bidding startet am 07. Jänner 2024 ab 17:00 Uhr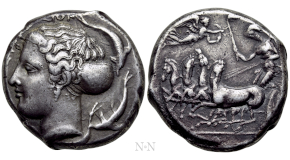 Münzen der Griechen
★ Ex Künker 2004 ★
SICILY. Syracuse. Second Democracy (466-406 BC). Tetradrachm. Obverse die signed by Phrygillos, reverse die signed by Euarchidas.
Obv: ΣVPAKOΣION.
Head of Arethousa left, hair in ampyx, inscribed ΦPY, and sphendone, wearing earring.
Rev: Charioteer, holding flaming torch and reins, driving fast quadriga left; above, Nike flying right, crowning charioteer with open wreath; EVAPXIΔA above exergue line to lower left (mostly off-flan); in exergue, grain ear left.
Fischer-Bossert, Coins 54; Tudeer 54; SNG ANS 279; SNG München 1061; HGC 2, 1335.
Ex Fritz Rudolf Künker GmbH 94 (2004), lot 403
Condition: Very fine.
Weight: 17.34 g.
Diameter: 24 mm.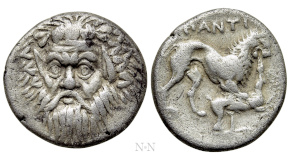 Münzen der Griechen
★ Exceptional Style and Very Rare ★
CIMMERIAN BOSPOROS. Pantikapaion. Hemidrachm (Circa 370-355 BC).
Obv: Bearded head of satyr facing three-quarter left, wearing ivy-wreath.
Rev: ΠΑΝΤΙ.
Lion standing right, attacking stag.
MacDonald 42; SNG BM Black Sea 860; SNG Stancomb 536; HGC 7, 65.
Condition: Very fine.
Weight: 2.54 g.
Diameter: 15 mm.
Münzen der Römischen Provinz
SELEUCIS & PIERIA. Antioch. Otho (69). Tetradrachm. Dated RY 1 (AD 69).
Obv: ΑΥΤΟΚΡΑΤωΡ Μ ΟΘωΝ ΚΑΙϹΑΡ ϹЄΒΑϹΤΟϹ.
Laureate head right.
Rev: ЄΤΟΥϹ A.
Eagle standing left on branch, with wings spread and wreath in beak; palm-branch to left, crescent between legs.
RPC I 4199 (5 specimens); McAlee 316; Prieur 101.
Very rare.
Condition: Good very fine.
Weight: 15.62 g.
Diameter: 27 mm.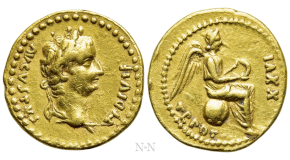 Münzen der Römischen Kaiser
★ Rare Gold Quinarius ★
TIBERIUS (14-37). GOLD Quinarius. Lugdunum.
Obv: TI DIVI F AVGVSTVS.
Laureate head right.
Rev: TR POT XXVI.
Victory seated right on globe, holding wreath in both hands.
RIC² 10; King 6.
The obverse legend calling Tiberius 'divi filius', son of God (Augustus), is one of the contradictions of what was considered one of the most controversial princes of ancient Rome. In fact, Tiberius was reluctant to accept the succession, more loyal to republican ideals. When he became emperor, he first of all refused the name 'Imperator', which was his by right. He also did not want the prestigious title of 'Father of the State' and apparently despised that of 'Augustus', which he ended up accepting, however, together with the 'imperium maius et infinitum' and the 'tribunicia potestas', which were the foundations of the Republic. He also arranged for the cult of the living emperor to be abolished. All these refusals contributed to the misunderstanding of Tiberius by his contemporaries, who were now attached to the Augustan concept of Empire. Tiberius was the son of Tiberius Claudius Nero, of noble lineage and republican orientation, and Livia Drusilla. His father had sided first with Julius Caesar, then, upon his assassination, with the Caesaricides, to join the revolt against Octavian and fall back south with Sextus Pompey. In 39 B.C. at Misenum, Nero was forced to divorce his wife to give her to Julius Caesar's heir, so Tiberius ended up in Augustus' custody and Livia gained an important political advantage. Tiberius married Vipsania Agrippina, the woman he loved and who bore him a son, Drusus, but was forced by Augustus to divorce and marry his daughter Julia. This was another blow to Tiberius who, disgusted with his new wife and politics, decided to retire to Rhodes, leaving room for Augustus' chosen heirs, Gaius and Lucius Caesar. The two, however, died (AD 2 and 4) and Augustus ended up associating Tiberius himself with the throne, whom he considered to be competent above all in military matters.
Condition: Very fine.
Weight: 3.85 g.
Diameter: 16 mm.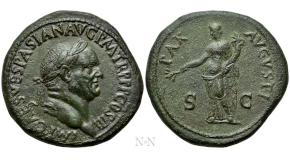 Münzen der Römischen Kaiser
★ Expressive portrait ★
VESPASIAN (69-79). Sestertius. Rome.
Obv: IMP CAES VESPASIAN AVG P M TR P P P COS III.
Laureate head right.
Rev: PAX AVGVSTI / S – C.
Pax standing left, holding branch and cornucopia.
RIC² 181.
Condition: Good very fine.
Weight: 28.61 g.
Diameter: 35 mm.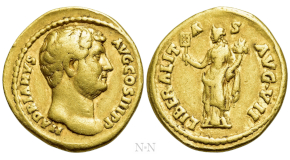 Münzen der Römischen Kaiser
HADRIAN (117-138). GOLD Aureus. Rome.
Obv: HADRIANVS AVG COS III P P.
Bare head right.
Rev: LIBERALITAS AVG VII.
Liberalitas standing facing, head left, holding coin-scoop and cornucopia.
RIC² 2219; Calicó 1286a.
Detailed coin-scoop with panel showing six holes
Condition: Near very fine.
Weight: 7.33 g.
Diameter: 20 mm.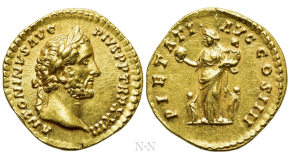 Münzen der Römischen Kaiser
★ Ex NFA 1984 ★
ANTONINUS PIUS (138-161). GOLD Aureus. Rome.
Obv: ANTONINVS AVG PIVS P P TR P XXIII.
Laureate head right.
Rev: PIETATI AVG COS IIII.
Pietas standing left between two children, holding globe and child.
RIC 302; Calico 1602a.
Ex Numismatic Fine Arts XIV (1984), lot 408; ex Fritz Rudolf Künker 326 (2019), lot 1429. Pietas, the deity depicted on the reverse, could be identified with Faustina Junior, daughter of Antoninus Pius. The emperor in 145 had proposed her in marriage to Marcus Aurelius, who immediately repudiated Ceionia Fabia, the wife Hadrian had intended for him. Faustina and Marcus Aurelius had thirteen children, but only six survived, and only three were alive at the time of the issue of this aureus (AD 159/160)
Condition: Near extremely fine.
Weight: 7.34 g.
Diameter: 20 mm.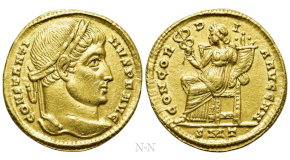 Münzen der Römischen Kaiser
★ Very Rare Solidus ★
CONSTANTINE I 'THE GREAT' (307/10-337). GOLD Solidus. Ticinum.
Obv: CONSTANTINVS P F AVG.
Laureate head right.
Rev: CONCORDIA AVGG NN / SMT.
Concordia seated left, holding caduceus and cornucopia.
RIC 101; Depeyrot 17/1.
It was Constantine I who introduced this new gold coin, the solidus. In the years between 309 and 311 AD, after reducing the weight of the nummus and eliminating the production of the lower denominations, the emperor implanted the entire system on this new real-value gold denomination, which remained from then on the only stable element in imperial coinage, cut at 1/72 of a pound (c. 4.5g), while the silver and copper coinage was continually modified, in an attempt to maintain the precise value ratios with the more precious metal. Together with the solidus, gold fractions and two new silver denominations were coined, miliarense and siliqua, while the emission of silvered bronze coinage, the centenionalis, remained, replacing the old nummus. The substantial difference with respect to Diocletian's reform, which was also based on gold, is that with Constantine the desire to forcibly link the value of precious metal denominations to those of base metal was removed, assigning the latter to a completely marginal role in circulation. Initially the rules introduced applied only in the regions directly controlled by Constantine, but with the defeat of Licinius in 324, the solidus spread throughout the empire.
Condition: Extremely fine.
Weight: 4.43 g.
Diameter: 19 mm.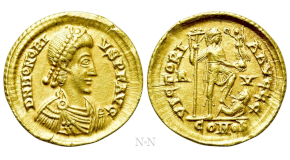 Münzen der Römischen Kaiser
HONORIUS (393-423). GOLD Solidus. Ravenna.
Obv: D N HONORIVS P F AVG.
Diademed, draped and cuirassed bust right.
Rev: VICTORIA AVGGG / R – V / COMOB.
Honorius standing right, with foot upon captive, holding labarum and victoriola.
RIC 1287; Depeyrot 7/1.
Condition: Near extremely fine.
Weight: 4.42 g.
Diameter: 21 mm.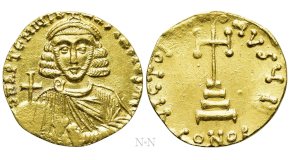 Münzen des Byzantinischen Reiches
ANASTASIUS II ARTEMIUS (713-715). GOLD Solidus. Constantinople.
Obv: D N ARTЄMIЧS ANASTASIЧS MЧL.
Crowned and draped facing bust, holding globus cruciger and akakia.
Rev: VICTORIA AVςЧ I / CONOB.
Cross potent set upon three steps.
Sear 1463.
Artemius was an imperial secretary during the reign of Philippicus before overthrowing him in 713, ascending the throne as Anastasius II. He immediately took an oath of orthodoxy to move away from the religious views of his predecessor, of monothete faith, in order to realign with tradition. Foreign policy posed a greater danger, as the Arabs were expanding into Asia Minor in the absence of a solid Byzantine dynasty. Anastasius thus organised a great naval expedition to Rhodes, but an internal betrayal led to his defeat and the rebels appointed a new emperor, a tax collector named Theodosius. Anastasius then faced a civil war, which ended after six months when the rebels prevailed with the help of the Ostrogoths. The emperor was forced to become a monk, but continued to plot to regain his throne, trying to gain the help of the Bulgarian Khan. His attempt came to an end with his assassination in 720, during the reign of Leo III, Theodosius' successor
Condition: Extremely fine.
Weight: 4.20 g.
Diameter: 19 mm.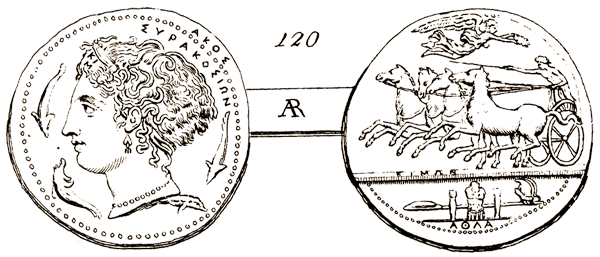 Newsletter
Mit unserem Newsletter werden Sie stets über Neuigkeiten informiert. Verpassen Sie keine wichtige Nachricht mehr! Tragen Sie dafür nur die E-Mail Adresse ein, an die der Newsletter versendet werden soll. Natürlich können Sie den Newsletter jederzeit wieder abbestellen.
Nach Absenden des Formulars erhalten Sie von uns eine Email zur Bestätigung.